New Release Policy for the LucaNet Group
From June, 2018, and beginning from LucaNet 11, LucaNet AG will follow a strictly time-driven Release Train Model. Releases will come out monthly (12 times a year). A release is either a monthly Feature Release or a LTS (long term support) Release.
Monthly LucaNet Release Train
The LucaNet Release Train consists of software releases (so-called feature releases) that appear each month. The end-of-life of these monthly feature releases is reached after a month. The release train ends each year with the LTS release in November and starts once again in December with the first release of the next release train.

Implications for users: Our customers should stay on the release train until the November release (i.e. until the next LTS release) and install the newest updates every month. If not, you will be working with a release that will have already reached EOL status and will no longer be maintained.
We have put together a flyer regarding our new release train model that provides you with answers to the most important questions and describes the difference between the monthly LucaNet release train and long-term support release in a quick and compact manner.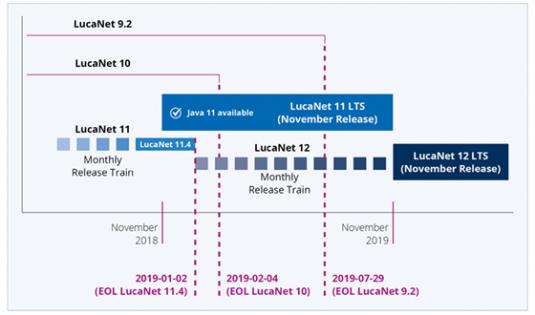 End-of-life for LucaNet 9.2
From January 31, 2019, both LucaNet 9.2 and LucaNet 10 will contain a Java version that is no longer supported by Oracle. To remove the time pressure imposed on all customers as regards migration to LucaNet 11 LTS, LucaNet will extend maintenance for LucaNet 9.2 from beyond February 4, 2019 until July 29, 2019. Such support, however, extends only to LucaNet 9.2 itself, and not to errors in the underlying Oracle JDK 8.x. LucaNet 9.2 will reach EOL status on July 29, 2019.
Important: No extended support for LucaNet 10!
The aforementioned extension to support is only applicable to LucaNet 9.2. The entering of EOL status on February 4, 2019 for LucaNet 10 remains unchanged given that the conversion from LucaNet 10 to LucaNet 11 LTS is primarily of a technical nature. The data models for both versions are identical. Conversion effort, therefore, remains relatively minimal.